RUG DESIGN GUIDE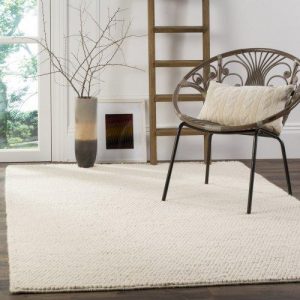 Rugs play a fundamental role when it comes to home décor. One of the greatest attributes of rugs is that regardless of the type of flooring you have – hardwood, tile, etc. – rugs bring comfort, color, texture, and personality to any space. The extreme popularity of rugs does mean that the choices and styles of rugs are endless (emphasis on endless!). While having such a variety of rug styles and sizes is great, it can also make choosing one for your space a bit intimidating. But don't fret! Our Rug Design Guide will help you make the most appropriate and complimentary rug choice for your space. We are here to help!
MATERIAL KNOWLEDGE:
When choosing your area rug, there are many areas to consider other than color/pattern/rug placement. Are you placing your rug in a low or high traffic area? Do you have children or pets? Do you love to entertain? Choosing a rug that works best with your lifestyle is key, and knowing your material choices is important. The more research you do, the easier it will be to make a choice that will benefit you most! Listed below are some great material choices for rugs:
Wool: Wool is one of the most popular material choices when it comes to rugs. Not only does wool combine comfort and durability, but it's also a very sustainable and eco-friendly material choice! Wool rugs are a great choice for high traffic areas due to its strong, resilient fibers. Other benefits include resistance to moisture and dirt. Luxuriously soft and available in a variety of colors and patterns, wool is always a great choice!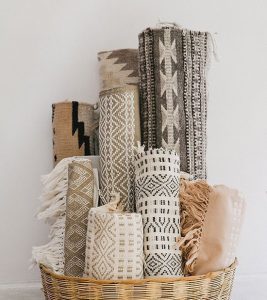 Jute: Jute has gained a lot of popularity over the years due to its effortlessly elegant and natural aesthetic. Its gorgeous, natural hue of golden wheat makes it a complimentary choice for any interior. Relatively maintenance free and thicker than most natural fiber rugs, jute makes a great choice for homes with pets or children.
Polypropylene: If you're looking for convenience, polypropylene is the choice for you! Stain resistant and easy to clean, polypropylene is ideal for homes with busy and active lifestyles (pets and children!), and is often also used outdoors due to its resistance to sunlight fading.  Highly resistant to mildew and moisture, polypropylene also makes for an excellent choice to use in washrooms or pool houses. Available in an endless amount of colors, patterns, and textures, this material is one of the most popular rug choices (with good reason!)
Nylon: Like polypropylene, nylon is another durable, synthetic material. Nylon was originally developed as an alternative to silk, and displays its colors beautifully. Easy to clean and maintain, very durable, stain resistant, and silky soft, nylon is a fantastic material choice for rugs.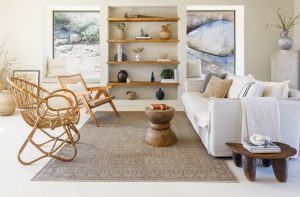 MEASURING FOR YOUR SPACE:
No matter how beautiful or unique your rug is, if the size isn't right, it will not work. A rug that is too small in size can end up looking bland and disappointing, and a rug that is too large can end up overpowering the space and 'swallowing' other decorative elements. Your rug choice is meant to define your space, so correct sizing is important! Consider your furniture when looking for a rug for your living space, and be mindful of your various layout options. Is the space open or defined? This also important to consider, as it makes a difference in your rug size! For large or open space plans, we suggest choosing a larger rug size (example: 9′ x 12′) so it can accommodate most of your furniture, and unify other elements in your space. In medium sized rooms, 8′ x 10′ rugs are a great choice, as they will leave a border between your rug and flooring which helps to define the area.
Every home, however, is different and unique in terms of its layout. Because of this, many struggle on deciding which rug is the perfect size for their space. Our team at Façade Interiors & Furniture are more than happy to provide you with expert advice and guidance to best select a rug that compliments your specific layout!
CHOOSE YOUR STYLE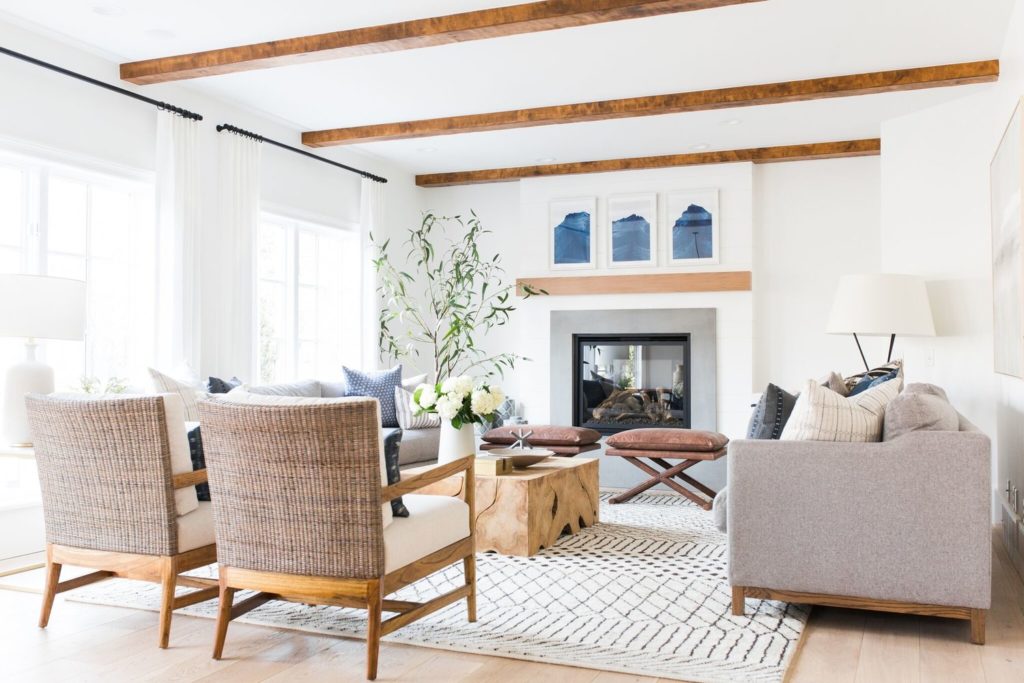 Before you begin the process of searching for your new rug, make a mental note of your color scheme as you'll want your rug to compliment the two or three main colors in your space. A rug ties your room together, so the color and style you choose will help to establish the mood. Warmer colors such as yellow, orange, or red will add warmth, while cooler tones create a calmness. Rich, darker hues will help define a more intimate, smaller space; and lighter tones can make a smaller space appear larger. However, you know your own taste better than anyone else, so make sure to choose a rug that completely compliments your sense of style!
Another helpful tip is being able to see your material and color/pattern choice in your space. Lighting can change the way your rug looks drastically, so being able to take home samples is something we always recommend and encourage! Here at Façade, we offer take-home samples of collections we carry in order for you to better see your rug choice in your home. We are here to help you make the process easier and (of course) fun!